---
PAIRS OF FEET MOISTURIZING SOCKS, GOODBYE CRACKED HEELS 👣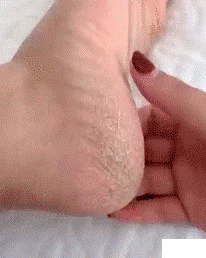 Introducing our revolutionary new gel-based socks - the ultimate solution to dry, cracked, and rough feet. Our gel socks are specifically designed to provide your feet with the nourishment they need to feel soft and silky smooth.

TAKING CARE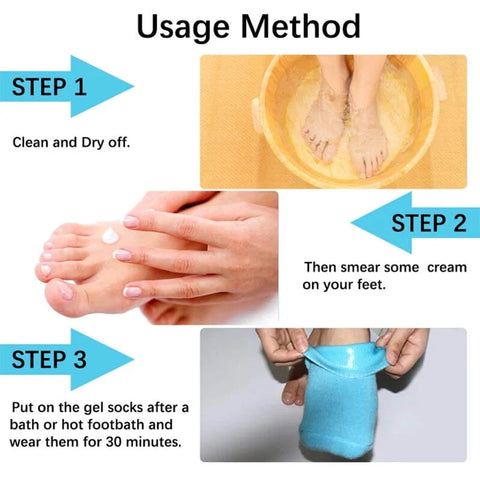 The heels and soles to be smooth and not cracked are something that must be taken care of every day. We have a helper that will make your feet feel soft, smooth, and not stiff anymore. Just wear it for 20-30 minutes a day while you're at home. Or even while working, it can be worn anytime, anywhere.
Our gel-based socks are different from other socks in the market because of the special gel infused in them. The gel helps in keeping your feet moisturized and heals your skin, making it perfect for treating cracked heels, hard calluses, and dry skin. The gel acts as a moisturizer, it keeps your feet feeling soft, smooth, and refreshed.
ALL-IN-ONE SOLUTION
The gel-coated sock design provides all-over moisture to your feet. Helps reduce pressure on feet that are hard, dry, and rough, with calluses, cracked heels, and cracked toes to come back soft.

NON-SLIP MATERIAL
There are non-slip dots spread all over the bottom of the gel sock. Allows for a good grip for better stability and balance. It ensures better movement of the body. avoid slipping.
WASHING INSTRUCTIONS:
Hand wash with mild detergent, and rinse with clean water. Hang so that the water drips out by itself, do not twist as it may cause the gel inside to come off. Do not use white bleach. Do not use it in washing machines and dryers. Do not iron.

SOFT AND COMFORTABLE
Made with Soft Cotton + Plant Gels, Natural Plant Essential Oils, Vitamin E, Jojoba Oil, Olive Oil, and Rose Oil. Allergen-free, therefore suitable for all skin types.

DURATION OF TREATMENT
For the best results, soak your feet in warm water and let them dry before putting on the gel socks. Apply any cream to your feet and leave the socks on for around 40 minutes each time, 4-5 days a week. Our gel-based socks will leave your feet feeling refreshed, moisturized, and healthy-looking. Try them out today!